News
Choose the date of your next trip:

Best price guarantee
Customer service
Secure payment

Events in May and June
Summer is coming!
Here we are! Summer is about to begin and San Teodoro is preparing to welcome the first tourists with many cultural and sporting events.
It starts with San Teodoro in fiore that will color the streets of the center:
♦ 𝐕𝐞𝐧𝐞𝐫𝐝𝐢̀ 𝟐𝟎 - 𝐦𝐚𝐭𝐭𝐢𝐧𝐚: temporary installations located throughout the country; - 𝐩𝐨𝐦𝐞𝐫𝐢𝐠𝐠𝐢𝐨: realization of the internal framework of the church that can also be visited in the months following the event.
♦ 𝐒𝐚𝐛𝐚𝐭𝐨 𝟐𝟏 - 𝐩𝐨𝐦𝐞𝐫𝐢𝐠𝐠𝐢𝐨: preparation of the infiorata performed by the Infioritalia association with the collaboration of the children of the Don Pala oratory supported by their catechists.
♦ 𝐃𝐨𝐦𝐞𝐧𝐢𝐜𝐚 𝟐𝟐: visit paintings in the streets of the town and inside the church and the majestic temporary installations.
Furthermore, throughout the event, the Teodorini Cultural Association of Arts and Crafts will be present in the afternoons with craft exhibitions.
Event organized by the Municipality of San Teodoro in collaboration with the Live Teo-D'oro natural shopping center and Infioritalia, the National Association of artistic infiorate.
Also on the same weekend do not miss Swimtheisland, the sporting event dedicated to swimming in the splendid setting of La Cinta beach
Saturday 21 May
🟡 SPRINT Challenge - 800m, FAMILY / TEAM Event - 800m, MWM Relay - 800m, SHORT Swim - 1800m 🇮🇹 (First National ACSI Open Water Swimming Championship - open to ACSI and FIN members of Italian nationality), SUNSET Swim - 1100m + 🍷
Sunday 22nd May
🟡 CLASSIC Swim - 3200m 🇮🇹 First national ACSI open water swimming championship - open to ACSI and FIN members of Italian nationality), LONG Swim - 6000m
👉🏻 COMBINED Swim: 1800 + 3200m
Race consisting of the combined of two races: the SHORT race (1800 m) to be held on Saturday and the CLASSIC race (3200m) to be held on Sunday 22. The ranking will be drawn up with the sum of the times of the two races.
Tuesday 31st May
On May 31st, instead, the celebrations in honor of Our Lady of Trust will take place, with the procession and the Holy Mass and to follow the celebrations organized by the Committee.
Here is the complete calendar: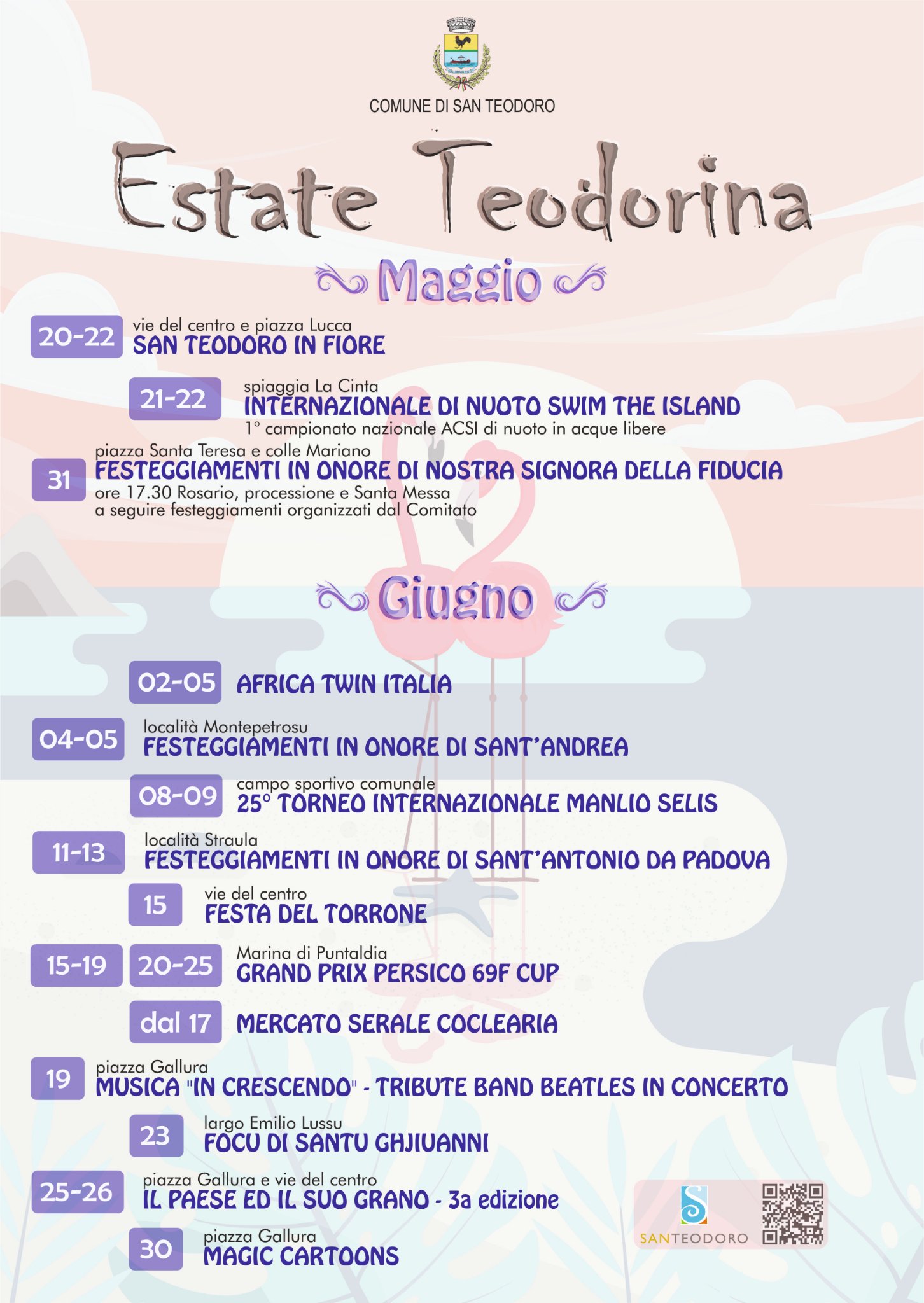 Many other events are coming to keep you company in the hot Teodorina summer: stay tuned!
Sources:
Ufficio turistico San Teodoro
Comune di San Teodoro
Swim The Island